The Rev. Dr. Debra J. K. Bronkema
I am excited by the power of story to transform lives!  Through reflecting on creativity and spirituality, my hope is to help you explore possibilities for growth in your relationship with yourself, other people, and God.
Midweek Meditations available now!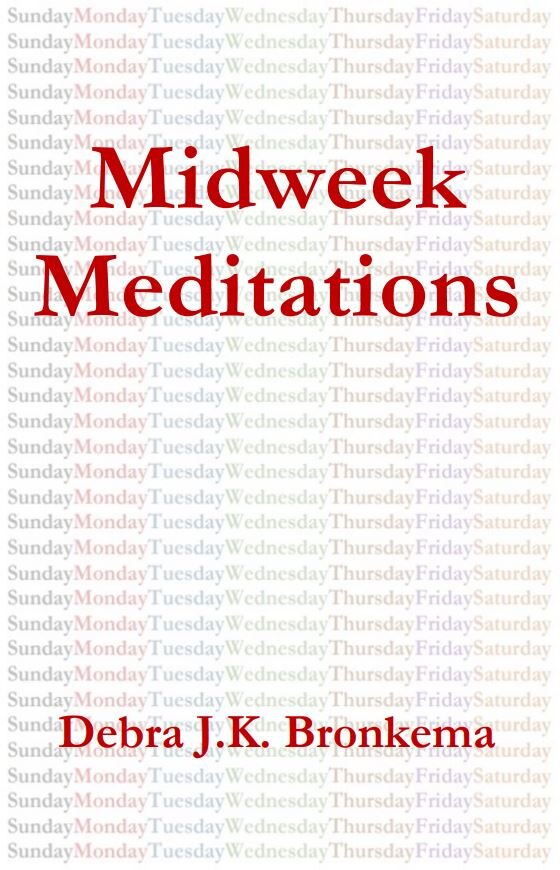 Midweek Meditations: An opportunity to get spiritually filled up on your journey through the week! They include a reading from scripture, a devotion, and a prayer, as well as reflection questions for you to ponder. Each meditation invites you into an encounter with the Word of God, offering both comfort and challenge along the way.
Creative Writing Groups - Online
Creative Writing as a Spiritual Practice Groups are happening online now! You can join an email group, or a Facebook page, and begin writing with a community of people who want to grow in faith through writing!
I've been a Pastor since 1993, and currently serve the Pleasantville Presbyterian Church in New York , and a new worshipping community called connect.faith. My congregation in Pleasantville is warm and welcoming – and would love to have you visit. We also invite you to be part of – connect.faith, which  is an on-line community where people grow spiritually through creativity and justice. 
My newest book is Midweek Meditations, a devotional meant to help open you up to the presence of God in your life. In 2018, I published Finding Manna, which is the story of a young women's journey to find her life. These books are published by Parson's Porch Books – you can buy the book and/or learn more about them here:
https://www.parsonsporch.com/presbyterian-books/midweek-meditations-debra-bronkema
https://www.parsonsporch.com/presbyterian-books/finding-manna-debra-bronkema
Retreats,  workshops and facilitated online communities – this program has reached people all across the country! I can't wait to help you explore the power of stories to change your life. Learn more about the program, and consider coming to an upcoming retreat.